Fleet Number: 595
Registration: 595 LCG
Year: 1964
Chassis: AEC Renown 3B2RA
Engine: AEC AV590
Body: Park Royal H44/33F
The AEC Renown was the successors to the AEC Bridgemaster. King Alfred bought two, 595 and 596, in the rare variant of Monocontrol two pedal control with sliding driver's doors.
After service with Hants and Dorset 595 was sold in 1977 to dealers Martins of Middlewich. It was subsequently bought by Burmah Castrol for staff transport. Acquired by the Oxford Bus Museum in the 1980s, 595 was returned to its King Alfred colours of leaf green and cream.
Ownership was transferred to FoKAB in 2002.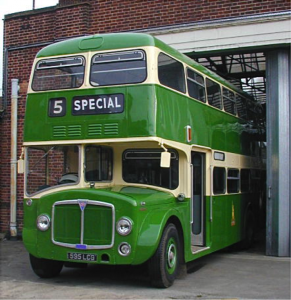 Image: Renown 595 in leaf green and cream livery