Fleet Number: 596
Registration: 596 LCG
Year: 1964
Chassis: AEC Renown 3B2RA
Engine: AEC AV590
Body: Park Royal H44/33F
The second of King Alfred's two AEC Renowns, 596 also transferred ownership to Hants and Dorset in 1973 and acquired the NBC poppy red colour scheme. It had a reputation for being unreliable and was known as 'The Duchess'. It was soon sold to dealer Martins of Middlewich and subsequently bought by 'Spirit of 76' Tours Inc. of Washington DC. However, it was soon found to be unreliable and languished for nine years in the sun.
Tracked down by James Freeman in 1988, 596 was offered to FoKAB as a gift but with only one wheel! Having arrived back in the UK at Sheerness 596 was quickly worked upon and appeared at the 1989 Running Day. Its American registration plate can be seen affixed to the stairway.
596 carries the King Alfred livery of dark and mid Brunswick green and cream, and so is easily distinguished from sister 595.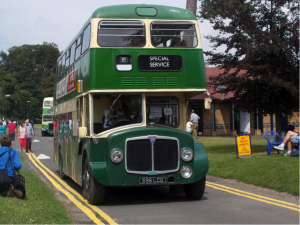 Image: Renown 596 in service at the Mid Hants Running Day, July 2014