Fleet Number: 704
Registration: CCG 704C
Year: 1965
Chassis: Bedford VAL14
Engine: Leyland 0.400
Body: Plaxton Panorama C49F
One of two Bedford VAL 14's bought by King Alfred in 1965, 704 was used extensively on private hire work. Transferred to Hants and Dorset in 1973 where it joined their small fleet of VALs with Duple Viceroy bodies. Repainted in NBC red and white in continued in service until 1976 when sold to dealers Martins of Middlewich. 704 was subsequently sold to White of Weaverham.
After some years in use as a vehicle transporter with cut down body 704 was rediscovered in 1996 near Craven Arms and acquired by FoKAB member Jim O'Hara, to be a restoration project in memory of his late wife – also Val.
There followed a five year restoration led by Jim but under the guidance of the redoubtable Jack Parsons. Together, and with the support of FoKAB members, they steered the project to a splendid conclusion in 2001. This included the replacement of the cut down body with a donor Plaxton Panorama body, a considerable feat. It is seen regularly at FoKAB Running Days, usually on the X14 express service to Alresford with Jim O'Hara at the wheel.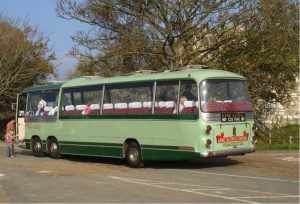 Image: Bedford VAL 704 seen at Carisbrooke Castle, Isle of Wight