Fleet Number: Dennis 6
Registration: OU 9286
Year: 1931
Chassis: Dennis 30CWT
Engine: White and Poppe 3,164cc
Body: Short B18F
This is the oldest member of the FoKAB fleet and was the last of six Dennis 30cwt's ordered by King Alfred between 1926 and 1931. Bought to serve the lighter rural routes, in particular to Morn Hill, these vehicles were one-man operated.
Sold to West Hill Park School, Titchfield in 1947, a school attended by some of the Chisnell children, Dennis 6 was sold on to Sparshatts of Hilsea in 1959 and thence to Vernon's Pools as a promotional vehicle.
It passed to Pat Oikle in 1973 who restored it to King Alfred livery and sold it to FoKAB in 1993. Despite its years Dennis 6 runs well and is always popular at FoKAB Running Days and other events.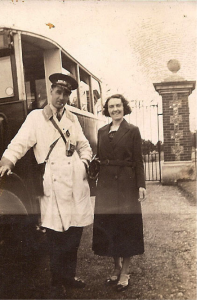 Image: Dennis 6 in its working days at the gates of Morn Hill cemetery. Drive / conductor Ted Fiddler, with a passenger