Fleet Number: 592
Registration: HOR 592E
Year: 1967
Chassis: Leyland Atlantean PDR1/2
Engine: Leyland 0.600
Body: Roe O43/31F
Like 590, 592 carried the all-over leaf green and cream King Alfred livery. Also, like 590 it served with Hants and Dorset prior to moving to Bristol Omnibus and converted for open top use at Weston-super-Mare. After a period with Badgerline in Bath 592 was bought by FoKAB in 1992.
Later that year it received the roof from Atlantean 591, the only one of the four not to be converted to an open top bus.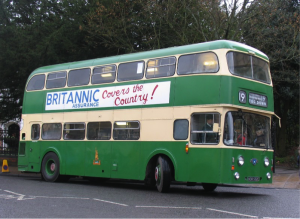 Image: Atlantean 592 in Winchester's Broadway during the 2006 Running Day