Fleet Number: 708
Registration: JAA 708
Year: 1950
Chassis: Leyland Olympic HR40
Engine: 0.600
Body: MCW Integral B40F
Arriving in Winchester in 1950 708 was the first underfloor single deck bus in Hampshire. Put to frequent use on the 4 service to Stanmore, its considerable power from the 0.600 engine came into its own on the steep gradients.
Sold in 1966 to Bakers of Fareham, 708 was bought by Glynn Coaches of Graigue Na Spidogue, Co Carlow, Ireland. Rediscovered in 1990 in a near derelict state 708 was bought by FoKAB and repatriated to Hampshire.
708's restoration had to take its turn but began in earnest in 2002 when IM Service of Romsey made good the integral framing. There followed eight years of painstaking restoration with many challenges along the way. Olympic 708 made its debut in time for the 2012 London Olympics looking as though it had just been delivered from the Leyland factory.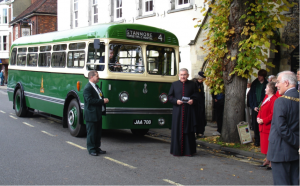 Image: The official launch and blessing of Olympic 708 in Winchester Broadway following its restoration in 2012