Fleet Number: 494
Registration: POU 494
Year: 1956
Chassis: Leyland Titan PD2/24
Engine: Leyland 0.600
Body: Leyland Titan L27/28R
Originally one of two Leyland Titans fitted with pneumocyclic semi-automatic gearbox with two pedal control, a significant advance over the crash gearboxes of the time. Both were withdrawn in 1972, passed to Omnibus Promotions and exported to the USA in London Transport red livery.
494 came to light in 1992 as an exhibit in the Augusta Richmond County Museum, Georgia, when on closer inspection the curator realised it was a Winchester bus. 494 was offered to FoKAB in exchange for a replacement double deck bus, but in King Alfred livery. The exchange took place in 1993 with 494 being driven from Augusta to Jacksonville, Florida, by seven FoKAB volunteers for shipment to Southampton.
Following a full restoration 494 appeared at the 1999 New Year's Day Running Day.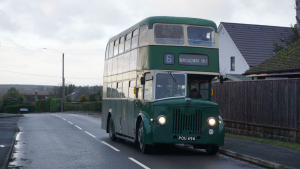 Image: Leyland Titan 494