October and November has been a few weeks of sorting out 104 for its MOT on the 20th November. After Bob's inspection the only real problem was the windscreen washer needed sorting out which was done by Pete fitting a new washer bottle with a pump fitted and cleaning out the the nozzles and she is now ready to be taken for MOT.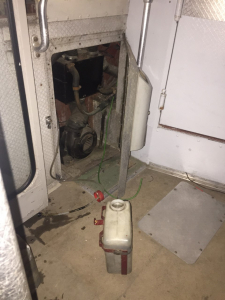 Image: The new washer bottle being fitted
The CAL mini bus is not far away from completion. With Melvyn fixing the lino in the back of the bus, a group of us took a trip over to West Sussex to have a look at some seats from an ex Southdown PD3 but these proved to be too wide, so the search is still on to find suitable seating. It was also found that the top of the radiator was leaking, it was removed and the top of the radiator was repaired by Geoff Tomas. Now the outside is being prepared for painting so hopefully we can have the little Bedford on show out side the Guildhall on the 7th of May 2018.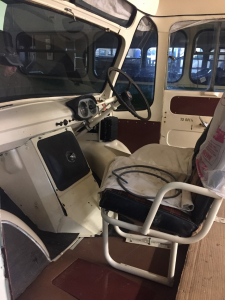 Image: The front of the Bedford CA
The biggest job at the moment is getting the Leyland Atlantean 592 back on the road after losing the front upper deck screen. We have finally be able to obtain a replacement screen and hopefully soon we will arrange a day when we can fit it back in place.
592 has needed quite a lot of attention in addition to the new screen. There was a problem with the charging of the batteries which after many weeks of hard work Pete Staples has managed to sort out. As per what always seems to happen, we had a similar problem with the washers on 592 as there was on 104. The water bottle was found to have some sludge in it so Pete found a replacement bottle and then sorted out the nozzles to spray on to the windscreen.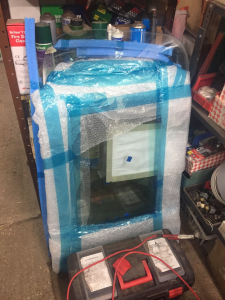 Image: The new glass for the top deck
Next in for MOT is 326, and it was found that the exhaust needed some attention so Dan has sourced some new parts for us to fit over the next few sessions. Also when she was brought back to NCW on the 11th November the petrol engine was found to be misfiring so the following Tuesday the plugs and point were taken out and cleaned by Brian Gilbert and Geoff Thomas.